Posts Tagged:

cherry mountain road
Jefferson Turnpike, White Mountains – The Jefferson Turnpike Incorporation (Jefferson Turnpike) was incorporated on December 11, 1804; the turnpike opened in 1811. Incorporators were Joseph Whipple, Obed Hall, and Stephen Wilson. This short-lived toll road traveled from the 10th New Hampshire Turnpike (today's Route 302 ) in Carroll, New Hampshire, over Cherry Mountain to Jefferson and Lancaster. It's believed that the old Cherry Mountain Road, a seasonal forest road with dispersed roadside camping, follows the route of the old turnpike....[Continue ...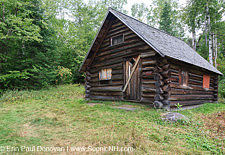 Fabyan Guard Station, White Mountains - Built in 1923 by Clifford L. Graham, the Fabyan Guard Station is a 16 by 20 foot one room log cabin located along old Cherry Mountain Road (the old Jefferson Turnpike) in the White Mountains of New Hampshire. Graham would eventually become Supervisor of the White Mountain National Forest..[Continue reading] ...