Posts Tagged:

noyes & goddard stove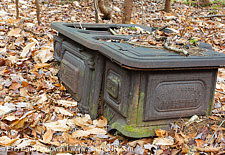 Noyes & Goddard, Swift River Railroad - Seen here in 2010 is an old stove at the site of the Holland camp along the abandoned Swift River logging Railroad in the New Hampshire White Mountains. This is a Noyes & Goddard stove (1886-1902 +/-) produced in Waterville, Maine. The stove model is "Maine". Incorporated on March 25, 1903, and operated by the Conway Company, the roughly twenty-five mile long Swift River Railroad was in operation from 1906-1916...[Continue reading] ...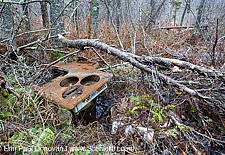 Forgotten Stoves, White Mountains - New Hampshire is rich with history, and each history buff is drawn to certain parts of the history. I love the variety of artifacts that remain in the White Mountain National Forest. And today, I am going to share a few of the unique stoves (considered artifacts) I have photographed over the years....[Continue reading] ...