New Hampshire Photography Prints
Art buyers, interior designers, and homeowners interested in purchasing prints of the New Hampshire White Mountains and New England region can place orders directly through our printing company, Fine Art America (FAA). Options include acrylic prints, canvas prints, traditional prints (framed or unframed), metal prints, posters and wood prints. Greeting cards, throw pillows, tote bags, and shower curtains are also available. FAA offers a 100% satisfaction guarantee (if you're not happy with a purchase you can return it to them within 30 days of the order date).
Erin Paul, owner of ScenicNH Photography, has hand picked a number of landscape and nature scenes of the New Hampshire White Mountains and New England region that will look incredible printed in any medium. You can view our complete print ready collection at Fine Art America here.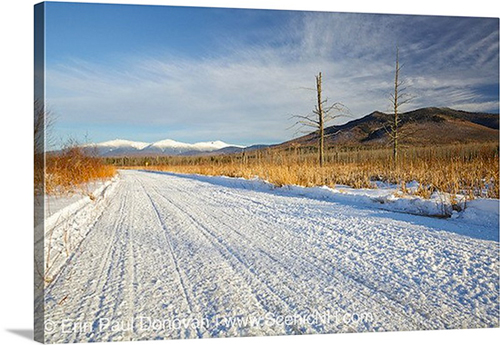 Looking for Canvas Prints?
Canvas prints have a unique look that many find more appealing than traditional framed prints. The image wraps around wood stretcher bars and does not need a frame (image on right). Images are printed with archival inks on a premium canvas and then stretched on a wooden frame. Canvas print orders are also placed directly through our printing company here.
Numerous sizes are available to fit most decorating needs.
If you have questions, feel free to contact Erin Paul directly, via email.