Trail Work, Trail Blazing
Poor trail stewardship practices were used to remove this painted trail blaze from a tree along the Mt Tecumseh Trail, New Hampshire – causing the tree wound. A trail blaze was painted on this tree in 2011, and then it was removed from the tree in the spring of 2012. The bark, where the blaze was, was cut and peeled away creating a tree wound where rot, fungus, and insects could enter the tree. Forest Service is responsible for maintaining this trail, and they do have protocol for removing trail blazing (cutting the bark is avoided). However, they did not remove this blaze. Most trail maintenance organizations in the White Mountains no longer use this practice of blaze removal because it damages trees and goes against leave no trace principles. This imagery of the tree, every year from 2011-2022, shows why its avoided.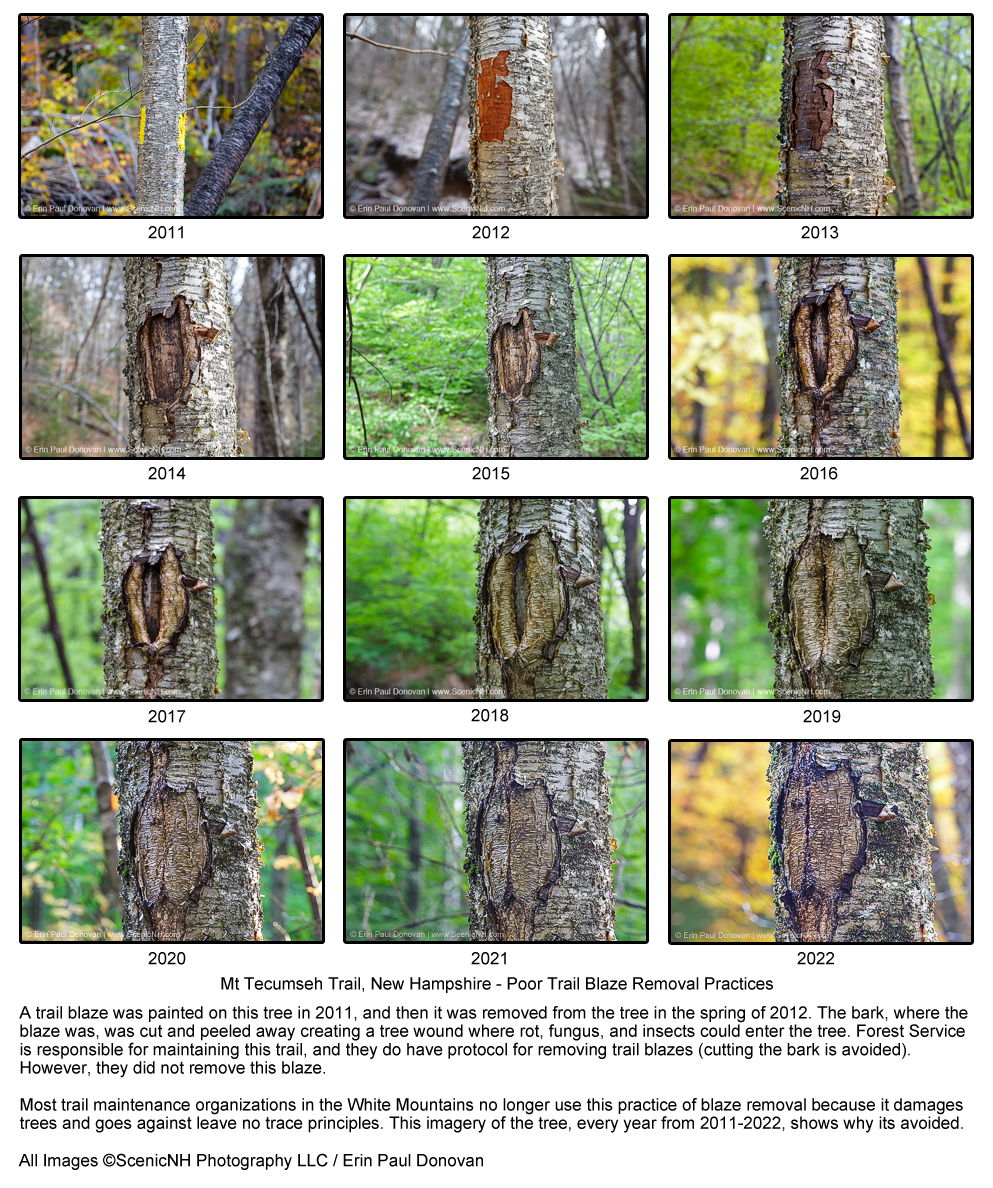 – Proper Trail Blaze Removal Procedures, per a Forest Service Ranger –
When blazes are removed from trees it is generally done with a wire brush though many of the brushes carried by our field staff have a paint scraper integrated into the same tool. The bark is usually not cut intentionally or peeled off. The one exception might be if the blaze were on a mature paper birch. We discourage the use of birches for blazing but in some places they're the only option.

Blaze removal is most likely done by USFS field staff (trail crews or backcountry rangers) or the partner organization responsible for the maintenance of the trail. Occasionally it may be done by trail adopters or other authorized volunteers. Anyone not under a formal agreement with the USFS is not authorized to remove blazes.
Notes:
• ScenicNH Photography is in the business of photography. We create awareness for historic preservation and environmental conservation.
• This work is based on leave no trace principles, low-impact trail building practices, and communications with Forest Service.
• While some may find the above work upsetting, it shows what is really happening in the White Mountains.
• This is a work in progress and is subject to errors and omissions.
• See more of our ongoing work at the projects page.